By José Antonio De Gracia DOI: https://doi.org/10.1344/waterfront2021.63.6.01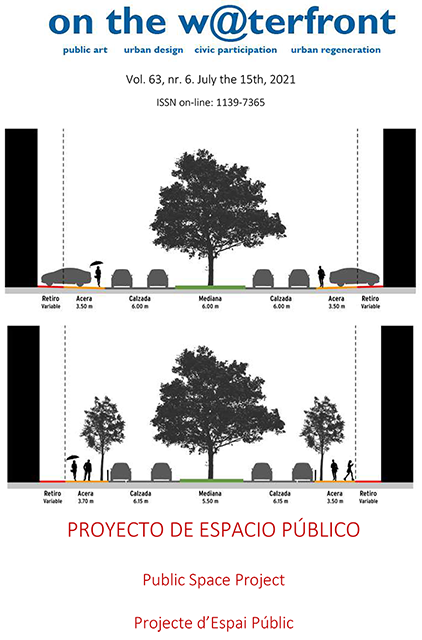 Abstract
This article uses an urban intervention in Panama City to discuss fundamental concepts in public space projects from a critical and theoretical perspective.

First, the functions of the street as a basic structure of public space are illustrated. Its importance is recognized not only as an element of urban connectivity, but also as a place of movement, encounter, support and creation of urban meanings and social identities.

Secondly, our case study is contextualized: the urban renewal of via Argentina, a street in the urban center whose environment was in a state of degradation like most streets in the city, largely occupied by the presence of vehicles. The intervention is part of a series of urban projects aimed at improving the physical structure of the city.
The third section begins a critical analysis of the actions on Via Argentina, starting with the redistribution of street space, the relationship between vehicles and pedestrians, and the consolidation of public space.

Next, we discuss in detail the new primary elements used for the urbanization of the street. Curbs, fords, pavement, rigola, gutters, tree surrounds and bollards become part of a system that must maintain a coherent relationship between all its parts. In addition, emphasis is placed on the design of the ground and the application of the pavement as a tool for the construction of an urban image and identity.
Finally, the article ends with an analysis of the parameters of accessibility in the project, relating the concept to the use of the pavement and the configuration in some sections of the street as a single platform. The article uses a wide repertoire of documentary photography to contextualize the case study.
Keywords
Urban design; Public space; Pavement; Universal accessibility; Single platform; Via Argentina; Panama City.