By -Zoltán Somhegyi DOI: https://doi.org/10.1344/waterfront2021.63.4.01
---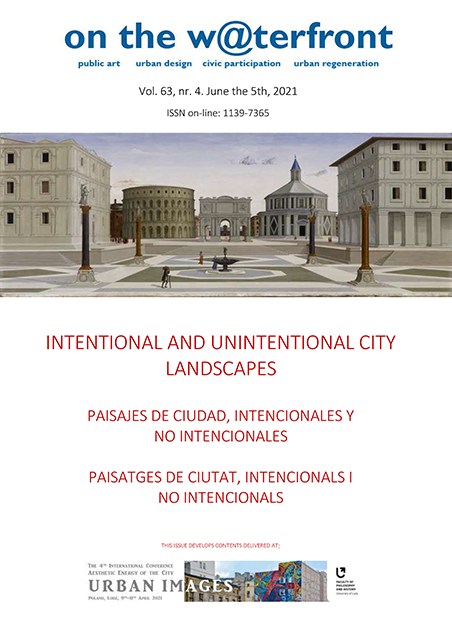 Abstract
Cities have been inspirational for the creators of visual art works long since, first as mere secondary, additional motifs to indicate the "urban" environment of the main scene, then as subject-matters in their own right. Those images could depict both imaginary and actual cities of the past and of the future, including mythological and Biblical locations, documenting distant lands and fantasizing on the appearance of utopian cities. In some of these aspects, the history of city representations shares significant similarities with the history of landscape depictions.

In the present paper, however, I aim to focus on a curious and particular detail in this pictorial tradition. Following and further investigating a brief reflection by Michel Makarius from his 2004 book on Ruins, I would like to compare the visuality and aesthetic effects of dense and empty cityscapes, of which two classical examples could be the capriccios – imaginary views of cities completely filled with aesthetically pleasing elements, including magnificent remnants of the Antique heritage – and representations of cities in which their emptiness is highlighted to such extent that the observer tends to assume that the real subject-matter of the image is not the city, its buildings, forms and physical components but exactly its being "empty".

These "extremities" on the broad range of cityscapes, i.e., the densely-filled and the extremely depopulated are, however, not merely historical sub-genres of long-gone centuries. These typologies have survived to this day, in various versions and with diverse accents; what's more, they seem to be more relevant than ever in understanding not only the nature of these artistic representations and their aesthetic references, but also in learning more of our contemporary reality itself. It is enough to think of the numerous ways in which artists approach the convoluted issues and challenges of urban life today, with the classical references and visual vocabulary in mind, either unconsciously creating occasional parallels or using them as explicit forerunners to their own works. The density of the global megapolises are represented in artistically novel ways often with socially critical overtones, while the images of empty cities – not long ago, for example, during the recent pandemics and lockdowns – are again resulting in aesthetically inspiring and insightful works incentivizing us to reflect on the oscillating dynamisms of our present urban realities. Therefore, it is particularly beneficial to observe such renderings of our cities and hence to raise more our awareness of the multiple global issues that are often very strongly manifested in the everyday life in large metropolises. Pieces of art thematising the extreme forms of city life can become very efficient ways of constantly reminding us of our duties of taking care of both our cities and our life.
Keywords
representations of cities; dense cityscapes; empty cities; aesthetics of urbanity